Valentine's Day only comes around once a year, and it's the perfect opportunity to let your partner know just how much they mean to you. Whether you are celebrating a special occasion, or simply want to express your appreciation for that special someone in your life on Valentine's Day we have created a list of tasty and exclusive gift sets for you to choose. Get ready to heal his heart all over again!
The Whiskey and Chocolate Bouquet
Chocolate is a Valentine's Day classic that you really can't go wrong with, but you can up the gift by adding some whisky into the mix of chocolate strawberries. This Whisky Selection & Chocolate Covered Strawberry Bouquet comes with a selection of miniature Jack Daniel's whiskeys and a big bottle of Jameson , mixed with premium Belgian chocolate dipped strawberries covered with coconut sprinkles, almonds, pecans and some oreos. It's the perfect gift for man with no doubt. You can order the bouquets from here
Lagers of the World Beer Gift Set
Buying for a man of simple tastes who just can't go past a pint in the evening? We have found a beer lover's perfect gift.  World Beer Gift set is a delicious hamper of beers from around the globe, including Germany, USA, Italy, Belgium, Brazil, Denmark, Czech Republic and more. Allow your loved one to sample bottles  from 11 different countries – if you're lucky, perhaps you'll get to try one too! Here's the link.
Perfect for any jerky loving man! This gift box can be the best way to sample all of the best selling jerky. Featuring a rotating wide variety of jerky meats and flavors that are staff picks. Just watch his face light up when he realizes his gifts smell like meat! Order now.
Long Distance Touch Bracelet Sets
We know how the distance can be overwhelming, especially when all you want is to feel their touch and to have them next to you. When you can't be with each other in person, long distance touch bracelets are the next best thing. Being able to virtually 'touch' your partner and letting them know they're in your thoughts, can help make the distance between you disappear. Choose your bracelet sets here.
Wireless Charging Station
If your husband or boyfriend owns iPhone 12s or 13s, AirPods, and/or Apple Watches, the Magnetic Wireless Charging Station makes for an excellent gift! Each side of the magnetic dock pops out and offers an additional charging spot — one for an Apple Watch and one for a pair of AirPods and their compatible case. Purchase from here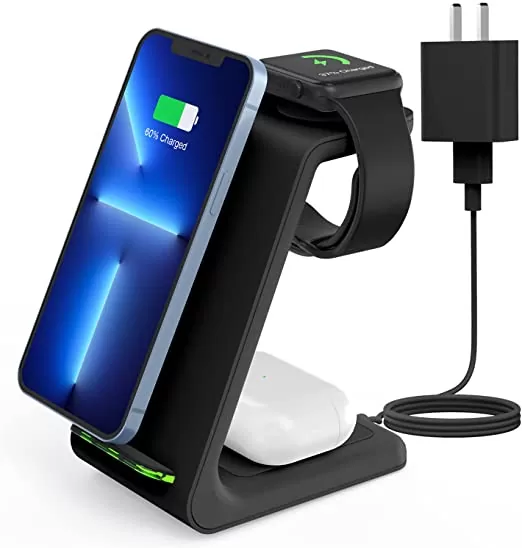 Self-Cleaning Water Bottle
If your husband or boyfriend uses a new reusable bottle (whether they're stuck on single-use or they simply need one for outdoor adventures), a high-quality water bottle makes a great gift. By now, everyone knows using a disposable plastic water bottle is bad for the environment and can be harmful to anyone's health. Staying hydrated with a reusable water bottle is one of the easiest ways to start phasing plastic out of everyday life. Order now!
Chocolate Strawberry Covered Strawberry Bouquet
Chocolate covered strawberries with nuts beautifully arranged in a small round box. Exquisite chocolate-dipped strawberry arrangements are the incomparable way to let him know that he is valuable for you. The Penny basket includes 12-14 pieces of fresh strawberries dipped in rich Belgian chocolate. And it is covered with almonds, pecans, pistachio and oreos.  Love Berry has a  wide selection of divine chocolate strawberries with alcohol bottles to choose from that will suit his taste! You can order the bouquets from here
The good news is that there are different wallet styles which makes it easy to find the perfect choice for your man. You can choose an old-fashioned, but still in style leather wallet, a new aluminum wallet for the modern male, or even a wallet with coin pocket to separate the change for easy purchases. To find the right wallet, you'll need to start with what they might need for their everyday use.This slim, stylish money clip can fit  cards, cash without any extra bulk. It fits in almost any front pocket and comes equipped with RFID-blocking technology to keep his identity and personal information safe. 
Portable Bluetooth Speaker
Aside from a good pair of headphones, a portable Bluetooth speaker is the best way to hear music whenever and wherever you are. Not only can you stream your tunes from a phone, tablet or computer, but some of the best Bluetooth speakers also have built-in microphones so you can use them as a speakerphone for calls or meetings.
This portable Bluetooth speaker delivers crisp, amazingly clear 360-degree sound no matter where your guy takes it. It features an impressive 10-hour battery life, and it's durable, drop-proof and actually floats on water.
This Timex watch looks at least three times more expensive than it is—especially as its leather strap ages. It matches basically any look, meaning he can stand out without second-guessing his outfit. So it makes a very classic and unique gift for him. 
If bae's more into Tiktok or Youtube than ever, surprise him with this small but mighty vlogging kit. With a tripod, cube light, and shotgun microphone, it's exactly what he needs to get his vlogger career off the ground. Order now.
With nearly 400 5-star reviews at REI, these might be the highest-rated hiking socks available anywhere. Whether he hits the trail every weekend or just likes to be comfy, these are an ideal option for just about any dude. You can even choose animated or colorful socks at Rei