Introduction to the Sweet World of Chocolate-Covered Strawberries and Macaroons
The Magic of Christmas Treats
Hey there, sweet tooths and Christmas enthusiasts! Are you ready to dive into a world where chocolate-covered strawberries and macaroons aren't just treats, but pieces of art? Christmas is the perfect time to let your creativity shine, and what better way than through delightful confections? In this blog post, we're going to explore some fantastic ideas for Christmas chocolate-covered strawberry and macaroon arrangements. Whether you're planning a cozy family gathering or a grand festive party, these ideas are sure to add a touch of magic to your celebrations.
What Awaits You
I'll take you through a journey of creating stunning and delicious arrangements that are not only a feast for the eyes but also for the taste buds. From crafting a chocolate-covered strawberry Christmas tree to creating a winter wonderland scene with macaroons, we've got you covered. And for those who love a bit of DIY, there are plenty of tips and tricks to personalize your sweets. So, grab your apron, and let's get started!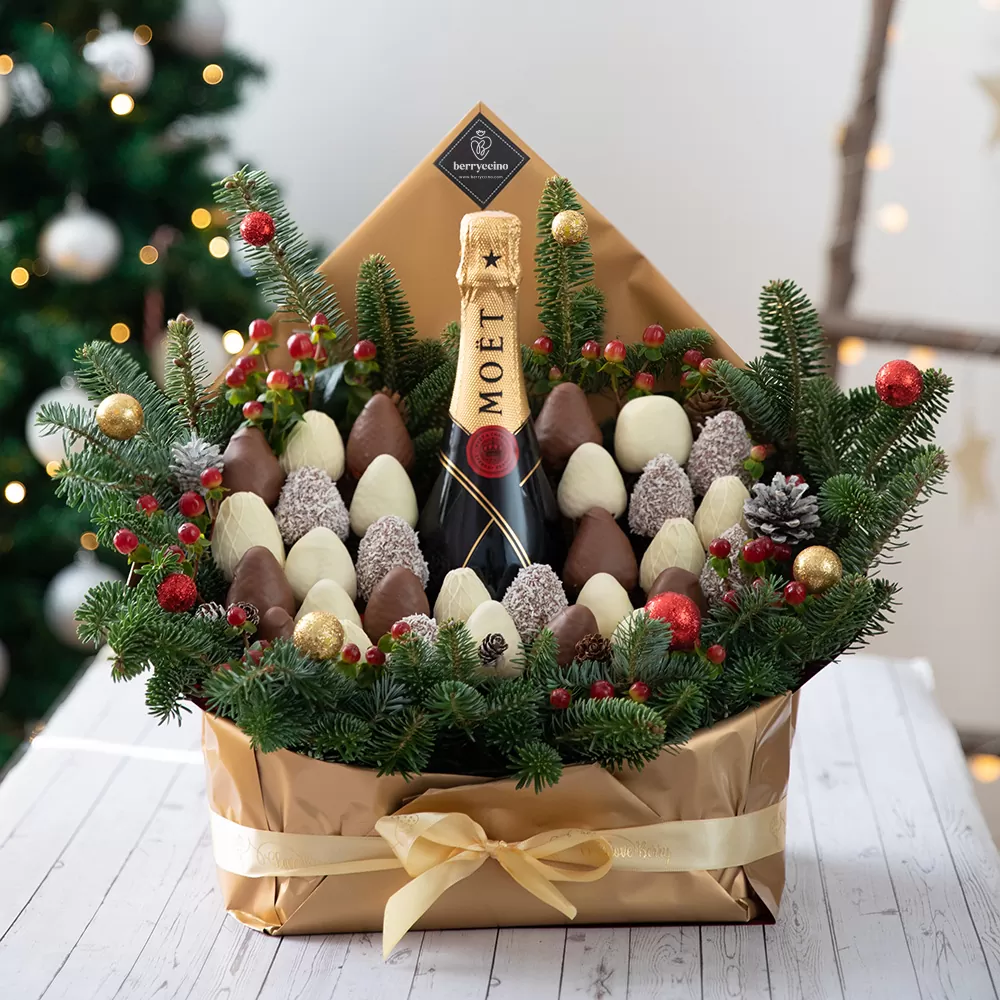 ---
Festive Fancies: Crafting the Perfect Chocolate-Covered Strawberry Christmas Tree
Selecting the Star of the Show: Strawberries
The first step to creating a sensational chocolate-covered strawberry tree is selecting the right strawberries. Look for berries that are fresh, firm, and uniformly shaped. The size matters too – medium-sized strawberries work best for creating a balanced tree.
Mastering the Chocolate Coating
Melting and tempering chocolate might sound daunting, but it's easier than you think! You can use a microwave or a double boiler to melt the chocolate. If you're feeling adventurous, tempering the chocolate will give your strawberries a glossy, professional finish. Don't forget to experiment with different types of chocolate – dark, milk, and white chocolate all bring their unique flavors.
Arranging Your Edible Christmas Tree
Once your strawberries are dipped and set, it's time to arrange them. You can use a styrofoam cone as the base of your tree. Start from the bottom, attaching strawberries with toothpicks, and work your way up. Add a festive touch with edible gold dust, sprinkles, or tiny fondant stars. The result? A show-stopping centerpiece that's as delicious as it is beautiful.
Macaroon Magic: Creating a Winter Wonderland Scene
Choosing Your Palette: Macaroon Flavors and Colors
When it comes to macaroons, the sky's the limit with flavors and colors! For a Christmas-themed arrangement, think about classic holiday colors – rich reds, deep greens, snowy whites, and glittering golds. Flavor-wise, consider seasonal favorites like gingerbread, peppermint, or even mulled wine. The key is to balance the visual appeal with mouthwatering tastes.
Arranging a Festive Macaroon Display
Now, let's turn these colorful treats into a winter wonderland scene. You can create mini Christmas trees by stacking macaroons in decreasing sizes or arrange them in the shape of a wreath. Add some edible glitter or dust them with powdered sugar to mimic snow. Place them on a mirrored tray or a bed of fake snow for that extra winter vibe. It's a playful, whimsical way to present these French delicacies.
Storage and Presentation Tips
Remember, macaroons are delicate. Store them in an airtight container in the fridge if you're not serving them immediately. When it's time to display, bring them to room temperature for the best flavor and texture. A clear glass dome or a tiered cake stand can be perfect for showcasing your macaroon masterpiece.
Sweet Symphony: Pairing Chocolate Strawberries and Macaroons with Other Desserts
Complementing Flavors and Textures
Combining chocolate-covered strawberries and macaroons with other desserts can create a symphony of flavors. Think about adding mini cupcakes, truffles, or even small slices of cheesecake to your arrangement. The key is to balance the richness of the chocolate with lighter elements like fruit or cream-based desserts.
Creative Pairing Ideas
How about a dessert platter that tells a story? Pair a chocolate-covered strawberry with a macaroon and a mini gingerbread cookie, creating a mini 'Christmas scene' on each plate. Or arrange your desserts around a central theme, like a 'Winter Forest' with chocolate trees, macaroon snowmen, and meringue snowflakes.
Keeping It Fresh and Tasty
No matter how you pair these delights, freshness is key. Ensure that all components of your dessert arrangement are prepared close to serving time. This will maintain the optimal texture and flavor, making your dessert spread not just a visual feast but a culinary one too.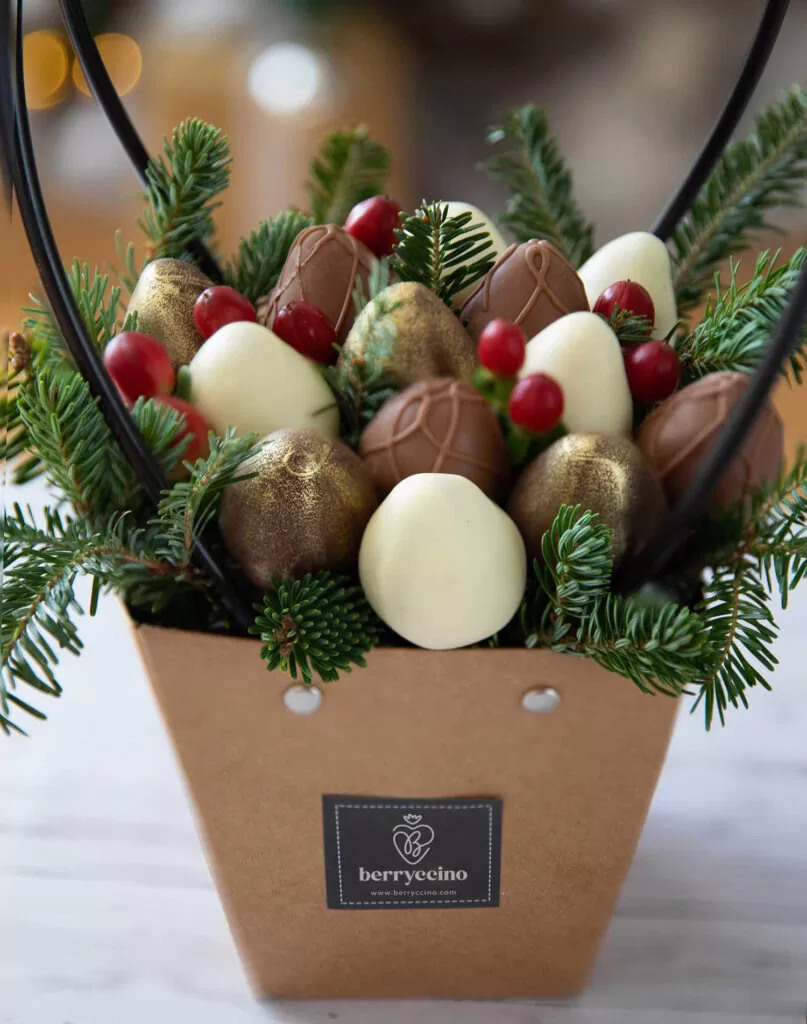 ---
DIY Decoration Delights: Personalizing Your Christmas Sweets
Adding a Personal Touch
Personalizing your Christmas treats can be incredibly rewarding. For chocolate-covered strawberries, try using colored chocolate to drizzle festive patterns, or use small cookie cutters to create fondant shapes to place on top. Macaroons can be personalized with edible markers – write tiny messages or draw little holiday symbols on them.
Techniques for Everyone
Whether you're a beginner or an experienced decorator, there's always room for creativity. Simple techniques like dusting with edible glitter or using pre-made edible decorations can make a big difference. For those who are more advanced, try piping intricate designs with royal icing or crafting small figures out of marzipan or fondant to adorn your treats.
Practice Makes Perfect
Don't be afraid to experiment and practice your decorating skills. Remember, it's all about having fun and adding your unique touch to these sweet creations. And if things don't turn out perfect, they'll still be delicious!
---
A Joyful End to Our Sweet Journey
As we wrap up our journey through the delightful world of Christmas chocolate-covered strawberries and macaroons, remember that the joy of these treats lies not just in their taste but in the love and creativity poured into making them. These confectionery creations are more than just desserts; they're expressions of holiday cheer and love.
Sharing the Sweetness
Christmas is a time for sharing, and what better way to spread joy than with homemade sweets? Whether you're gifting these treats to loved ones or enjoying them at a festive gathering, the memories you create will be as sweet as the treats themselves.
Your Turn to Create
Now it's your turn to create these festive delights. Remember, Berryccino offers a wonderful selection of fresh, beautifully crafted chocolate-covered strawberries, perfect for any special occasion. Whether you're looking for inspiration or a ready-made treat, they've got you covered. Check out their collection and add an extra touch of sweetness to your celebrations!