As Easter approaches, it's time to start thinking about gift ideas for your loved ones. If you know someone who loves chocolate and strawberries, then you're in luck! Berryccino has a range of Easter Sweet Treats that are sure to satisfy any sweet tooth. In this post, we'll be exploring some of the best Easter gift ideas for chocolate and strawberry lovers in NYC.
Chocolate Covered Strawberries: A Classic Easter Treat
One of the best Easter gift ideas this season is Berryccino's Easter Sweet Treats box. This delightful easter box is filled with scrumptious chocolate-covered strawberries, making it an excellent choice for both kids and adults alike. The beautifully crafted, chocolate-dipped fruits come in various flavors and are decorated with adorable Easter-themed designs, such as bunnies and chicks.
The Easter Sweet Treats box is more than just a tasty treat; it's a work of art that you'll be proud to gift. Using only the freshest ingredients, Berryccino ensures that each chocolate-covered strawberry in the easter box bursts with flavor and melts in your mouth. Visit Berryccino.com to order this one-of-a-kind Easter gift for your loved ones.
Why Chocolate Covered Strawberries Make a Great Easter Gift
Chocolate covered strawberries are not only delicious but they also make a great gift for Easter. They're a luxurious treat that can be enjoyed by people of all ages. Additionally, they're a healthier alternative to traditional Easter candies, which are often high in sugar and artificial ingredients.
How to Present Chocolate Covered Strawberries as an Easter Gift
If you want to present your chocolate covered strawberries as an Easter gift, consider getting a special Easter box from Berryccino. These boxes are designed specifically for Easter and come in a range of sizes, making them perfect for any occasion. You can also add a personal touch by including a handwritten note or Easter card.
Easter Boxes: A Perfect Gift for Families and Kids
For children, Easter is all about fun, excitement, and discovery. An easter box for kids can be an ideal gift to keep them entertained and engaged throughout the holiday. Here are a few creative suggestions to include in a personalized easter box for kids:
Don't forget to add some Berryccino chocolate-covered strawberries to the easter box for kids, giving them a sweet and delicious surprise to enjoy after a fun-filled day of activities. You can't go wrong with an Easter box from Berryccino. These boxes are filled with a variety of sweet treats, including macarons and chocolate covered strawberries.
Personalized Easter Gifts – Make it Extra Special
Adding a personal touch to your Easter gifts can make them extra special and memorable. Consider these personalized gift ideas for a truly unique Easter present:
Customized Easter Baskets: Design a tailor-made Easter basket filled with your loved one's favorite treats, toys, or self-care items.

Personalized Easter Egg Ornaments: Order or create Easter egg ornaments engraved or painted with the recipient's name, initials, or a heartfelt message.

Monogrammed Easter-themed Linens: Gift your loved ones monogrammed Easter-themed table linens, like table runners or napkins, that they can use during their holiday celebrations.

Custom-made Easter Jewelry: Choose a piece of Easter-themed jewelry, like a bunny or egg pendant, and have it engraved with your loved one's name or initials.
Remember, the key to a memorable Easter gift is thoughtfulness and personalization. Make your loved ones feel special by including their favorite items or adding a custom touch to their Easter presents.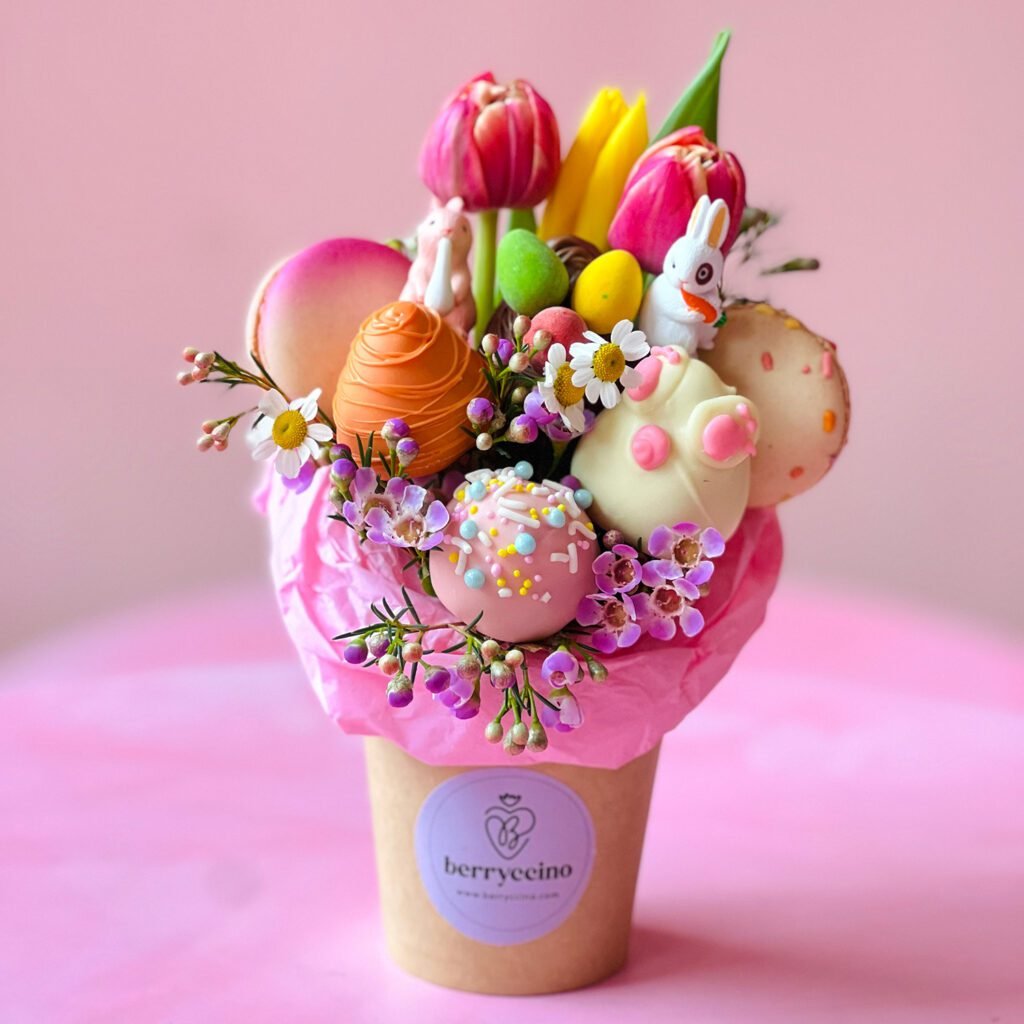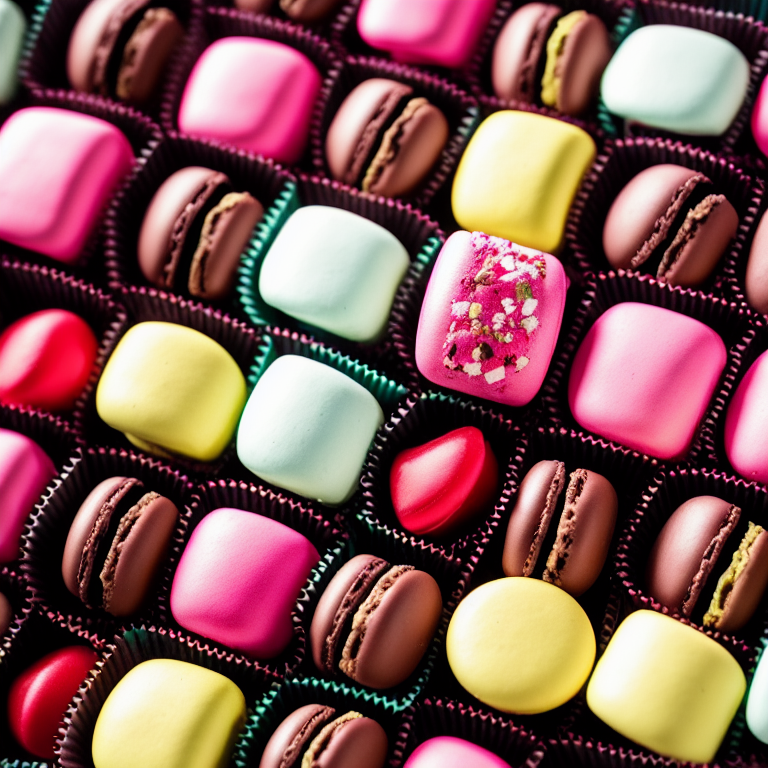 Flower Bouquets: A Unique Easter Gift Idea for Family and Friends Gatherings
If you're looking for a unique Easter gift idea, then consider getting a flower bouquet from Berryccino. These bouquets are made with fresh flowers and are designed to look like delicious desserts.
How Flower Bouquets Make a Unique Easter Gift
Flower bouquets make a unique Easter gift because they combine two things that people love: flowers and desserts. These bouquets are designed to look like beautiful desserts, but they're made with fresh flowers that will last much longer.
Why Choose Berryccino for Your Easter Flower Bouquets
If you're looking for high-quality flower bouquets that are designed to look like desserts, then Berryccino is the perfect choice. Their flower bouquets are made with fresh, high-quality flowers and are designed by expert florists. Plus, they offer a range of customization options, so you can create the perfect Easter gift for your loved one.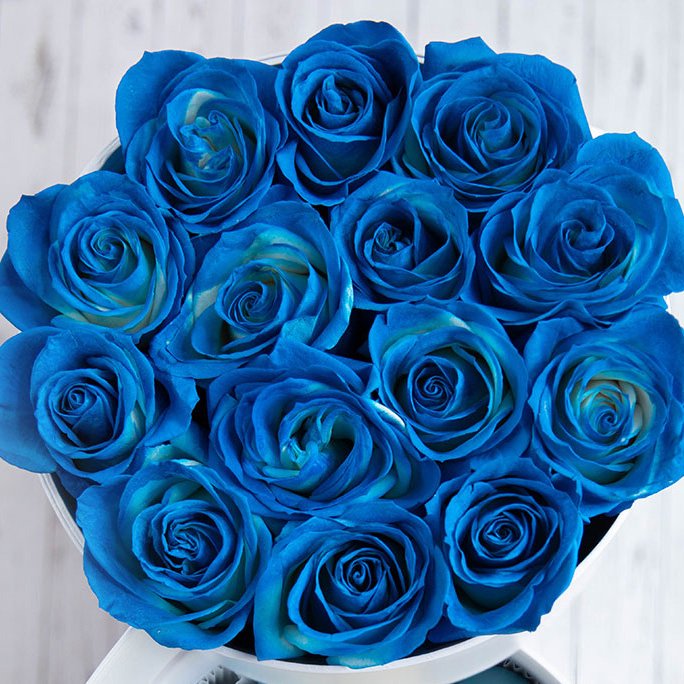 In conclusion,
No matter who you're shopping for this Easter, Berryccino's Easter Sweet Treats are sure to delight. Easter is a time to celebrate new beginnings, cherish time spent with loved ones, and indulge in delightful treats. From chocolate-covered strawberries to macarons and flower bouquets, there's something for everyone. So why not indulge in a little bit of luxury this Easter and treat yourself or your loved ones to something sweet and delicious from Berryccino?