Summer is the best season because it means that the local farms are packed with fresh summer produce like strawberries, blueberries, raspberries and so on. And the best way to put those delicious berries to use is in summer desserts. So if you are wondering what to make for dessert on a hot summer day, then you have come to the right place. We have rounded up the 10 best and most popular summer dessert recipes including all the berry pies (the best part of summer, right?), refreshing frozen treats from ice cream to sorbet, easy no-bake recipes, and chocolate covered strawberries, and more!
Strawberry Tart
Once the weather starts warming up, the list of strawberry desserts we want to make grows long, but this easy strawberry tart is always at the top. The crust is a simple no-chill version of a pie crust that we are obsessed with, ever since we used a similar version for our apple tart. It's a press in and takes all of the stress out of dough while still being perfectly buttery. The filling is a sweet cream cheese with a hint of lemon that makes the strawberries pop. We will be making it all season long! Fresh strawberry tart is a delicious, summer dessert loaded with juicy strawberries and homemade strawberry glaze with no jello, in a flakey pie crust. The best summer dessert idea.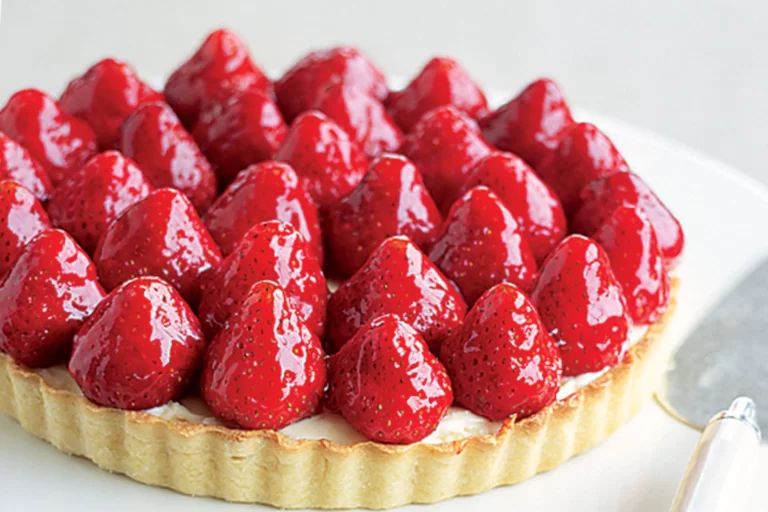 Strawberry Galette
A quick-fix crust and seasonal berries star in this crowd-friendly recipe for strawberry galette served with homemade whipped cream or ice cream. Easier than pie, this strawberry galette with a buttery flaky crust and a sweet and tart strawberry filling is a beautiful treat to serve this berry season.A galette is basically a pie, without the stress. This fast and fresh strawberry galette crust comes together in minutes. Throw a few ingredients into a food processor and let the gadget work its magic, or go the handmade route and work the butter into the flour with your fingers. No matter how you mix it, you can't mess this one up. And then it's time for the filling. All that juicy sweet fruit filling.
Strawberry Crumb Bars
These easy Strawberry Crumb Bars, with a buttery crust, sweet fresh strawberry filling, and crunchy butter crumb topping make wonderful dessert bars for an afternoon snack, or to take to a summer party, picnic, or potluck. With a buttery crust, tender, shortbread-like crust, a fresh strawberry jam filling, and that golden brown crumbly topping, these strawberry crumb bars are absolutely irresistible.
Strawberry Frozen Yogurt
When fresh strawberries come into season, and we can get flats of them for only a few dollars, that's when we start looking for everything and anything to do with them. Strawberry frozen yogurt is a terrific way to take advantage of the abundance of the hot summer. And as the days heat up, it's a good way to cool down quickly. Although it feels like you're eating ice cream, this strawberry frozen yogurt is actually much lighter than a typical custard and cream-based ice cream, and it's filled with the flavor of the fresh strawberries.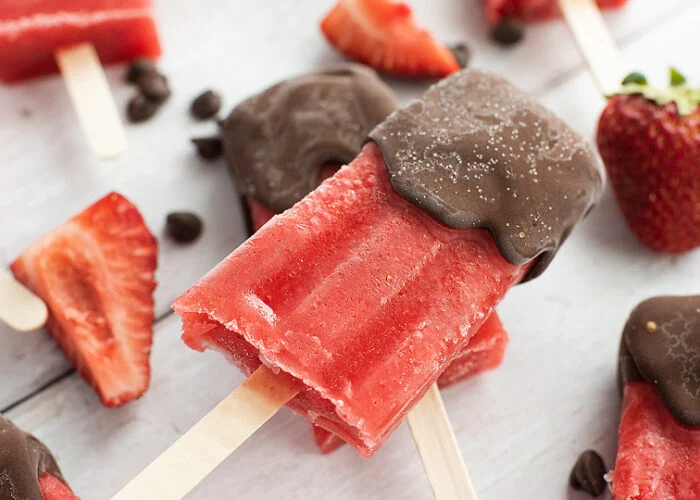 Strawberry and Yogurt Popsicles
Homemade strawberry popsicles are healthy, refreshing, and sweet. Made with just 4 ingredients, they're packed with fresh strawberries and no refined sugar. Whenever the weather warms up, or if we just need a fun snack, we love to have homemade popsicles. These frozen yogurt pops taste so darn good, but they're just made with super simple ingredients.
They're creamy and bright in flavor and you can mix them up in about 5 minutes. Making homemade popsicles to share with the kids is an easy way to offer nutritious foods in a fun format. We love to make my popsicles with Greek yogurt since it adds both protein and a super creamy texture. Paired with the fresh strawberries and lemon, the frozen yogurt is naturally sweet and indulgent tasting.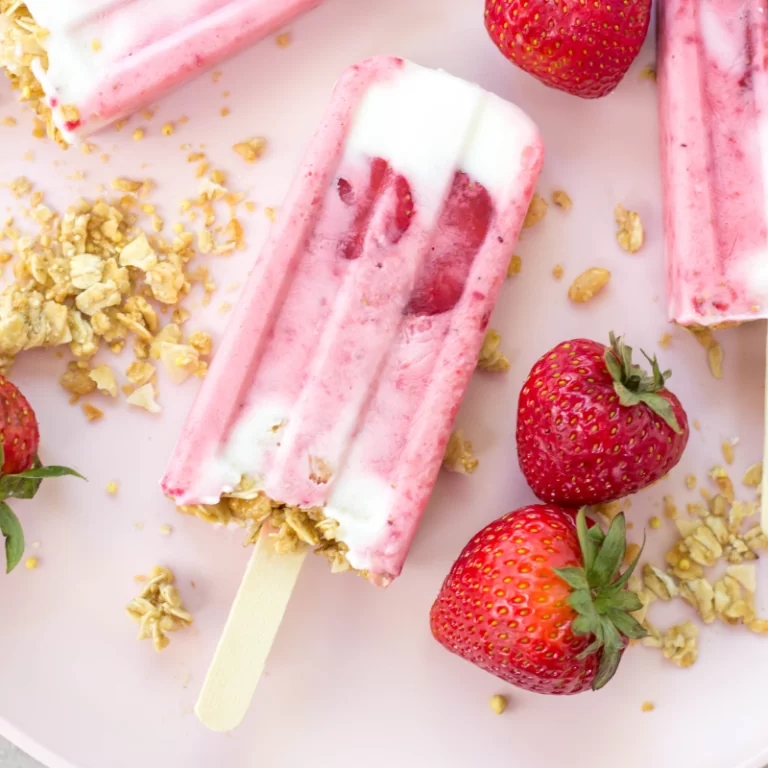 Chocolate Covered Strawberries
 Yummy! Yes, we are talking about strawberries as they are a perfect theme for any summer occasion. Chocolate strawberry desserts and drinks are awesome for any type of event as many people love. Freshly picked strawberries  from the farm and covered in chocolate is my favorite dessert in the summer.The best strawberries to use are ripe and red, yet firm to the touch. And if the strawberries are fragrant, that always means better flavor and sweetness, so keep that in mind as well. Be sure to dry the strawberries well after rinsing them. They should be completely dry when you dip them into the chocolate, for the best chocolate adhesion.While a double boiler (or double boiler method using a saucepan + bowl) absolutely helps to deter scorching the chocolate, do make sure the chocolate doesn't get overly hot. The goal is to melt the chocolates together gently. Perfect idea for a summer desert!
Nutella Crepes with Berries
Homemade Nutella crepes with berries are sweet, delicious, and indulgent. These easy to make light and thin French-style pancakes are filled with Nutella, fresh strawberries and blueberries, and topped with a sprinkle of icing sugar. The best part? French crepes are quick and easy to make — the batter comes together in just minutes in the blender, and each crepe takes less than 5 minutes to cook. Serve them for breakfast, brunch, dessert, or any time you crave a last-minute treat.
Perfect Strawberry Milkshake
When warm weather rolls around, there are two things we start craving. Strawberries and ice cream. Homemade strawberry milkshake is a perfect idea for hot summer days! Adding frozen strawberries to our classic vanilla milkshake is a major upgrade (and in our opinion, superior to most strawberry ice creams). To keep the milkshake decadently thick, freeze the strawberries first. And, of course, don't forget to top it off with some freshly whipped cream.
Strawberry Sorbet
No ice cream maker? No problem! A strawberry sorbet will be smoother and creamier than a no-churn one, but the no-churn sorbet is every bit as refreshing.Place the chopped lemon and sugar in a food processor, and pulse until combined. Transfer to a bowl. Purée the strawberries in a food processor, and add to the lemon mixture, along with the juice of 1 lemon. Taste and add more juice as desired. The lemon flavor should be intense but should not overpower the strawberries. Pour the mixture into an ice cream machine and churn until frozen. The sweet of the strawberries and sugar, the tart and bitter of the lemon – it all works together beautifully.
Chocolate Covered Strawberry Brownies
Chocolate-covered strawberry brownies are a decadent dessert made with fresh strawberries on top of fudgy chocolate brownies. Use a store-bought brownie mix plus some fresh farm strawberries to make these decadent ganache-topped brownies.Imagine biting into the fudgiest brownie you can think of. Now imagine that brownie topped with freshly cut strawberries and a smooth layer of chocolate. That is what these strawberry brownies taste like.  It'll be love at first bite!